Avian Aura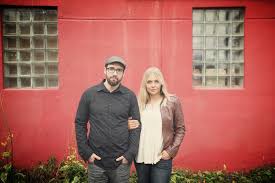 Event Details

Madison, WI locals Gary Flesher, Jr and Joan Herzing began working together in early 2014, when the pair were involved with various lineups, garnering experience in studios, and becoming players in the regional Upper-Midwest music scene.  Until then, Joan had been (and still is) active in the long-established powerhouse band, the Blue Olives, while Gary was chipping away at his songwriting skills (and still is).

Avian Aura decidedly took flight (pun) as of late 2017, recording the first EP- At First Glance– in early 2018, and then got to work crafting and delivering a solid live performance, playing a host of venues that specialize in good vibes and positivity, and engaging with a supportive audience both on and off the stage.

Expect to hear a mix of original music with a dose of tasteful covers, an array of Joan's instrumentation (saxophone, keys, cajon, accordion, etc) and soaring vocals, and Gary working the sound board, as well as contributing on acoustic guitar and vocals.  Avian Aura is a fresh presentation to a classic concept, hoping to be present and connected, to express what it means to be human in an otherwise distant existence, and on track to continue producing content, contact and mileage.